Features
All of the rooms at African Rainbow Resort include:
Private balcony with an ocean view
En suites with hot water shower
Mini fridge and satellite TV (limited channels available)
Comfort
Our specially designed Naturally Ventilated Rooms use the sea breeze facilitated by a ceiling fan to naturally cool the rooms.
Air Conditioned Rooms are also available.
Variety to meet your Needs
Double Rooms are spacious with King-size beds.
Triple Rooms contain a King-size with additional single bed.
Family Rooms feature a King-size plus double bed or 2 double beds.
An extra mattress can be added to all rooms.
Please note bed combinations vary. The specifics of your room will be determined at the time of booking.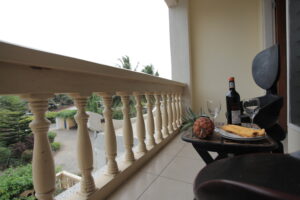 Naturally Ventilated Double

1-2 person
GhC 700/night
Naturally Ventilated Triple
3 person
GhC 900/night
Air Conditioned Triple
3 person
GhC 1,150/night
Naturally Ventilated Family

4 person
GhC 1,100/night
Our rates include Complimentary Breakfast.
Complimentary Breakfast of 2 eggs, toast and coffee, tea or milo.
Breakfast is served in the hotel restaurant or in our lush gardens.
Rates are subject to change without notice.

Our rates also include VAT.